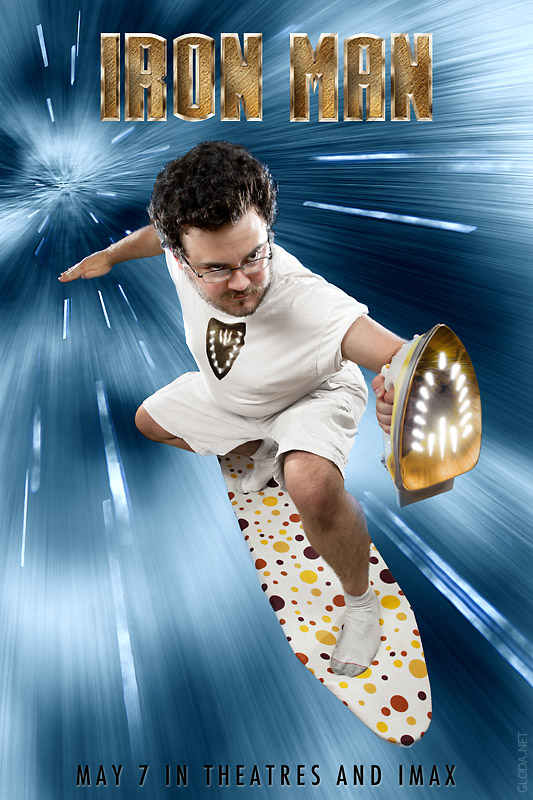 One of the recent challenges over on DPChallenge was 'Rejected Movie Posters'. I came up with this parody of the Iron Man movie. The slides below should give you an idea of the process from the first concept 'drawing' to the final image.
I took the picture in a living room. Not much space, otherwise the lights would have been further away. I used to flashes with barn doors for the rim light, and two lights with umbrellas as side lights. My Iron Man, Aaron, had to balance on the ironing board I borrowed from my flat and which was propped up on a couple of pillows.
The background I ended up using was made in Photoshop using the Clouds Pixelate/Mezzotint and Radial Blur/Zoom filters. The bigger streaks are from a separate image I made with some christmas lights – I zoomed in during the exposure to create straks. The font used for the title is CGF Arch Reactor with a starting sand/soil texture from CG Textures.

---
I hang around on the internet so much and browse so many photography forums, websites and blogs that I stumble across a lot of interesting photo-related stuff. Here are some cool pages that I discovered recently that you may enjoy:
---

On Halloween, the UKC Photography and Modelling Society set up a studio in the Lighthouse at the University of Kent. The aim was to raise some money for the society to buy more equipment, and it worked out quite well.
The last photo shows out setup. The trickiest part was lighting the background without having too much spill on the people since we only had about two metres in depth with which to work. The backdrop is lit with two Canon Speedlite 430 EX flashes, both with gobos to make the light hit the background only. The lights left and right of the camera are a Canon Speedlite 580EX MkI and MkII with Manfrotto 001B Nano stands and Westcott 2001 double-fold shoot-through umbrellas. All flashes were set to slave mode and triggered with a Canon ST-E2.
---